Welcome to Nextcar of Guatamala City. Guatamala!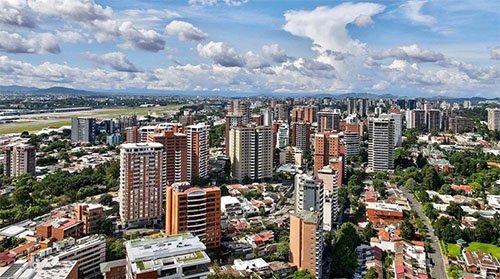 We are the newest NextCar destination in Central America, located in the heart of beautiful and historic Guatemala City, Guatemala, conveniently close to the La Aurora GUA Airport, and many local hotels and restaurants. Nextcar of Guatemala is here to help you with your car rental needs.
Arriving customersAfter collecting your luggage and entering the arrivals hall you will be greeted by a uniformed NextCar/Guatemaya Renta Autos representative holding a hand-held sign. If you are unable to find our representative, please call + 2261 3627 or + 5736 6966. Our rental office is only minutes away from the Airport. The NextCar Affiliate in Guatemala is Guatemaya Renta Autos.

Financial Policy: A major credit card is required in order to rent a vehicle. Name on credit card must match the renter's Driver's License and/or Passport

Coverages: Guatemalan law requires that all vehicle carry proper liability insurance. The purchase of Supplemental Liability Insurance (SLI) is optional provided written proof of coverage for Guatemala is presented at time of rental. Foreign auto insurance of credit card coverage are not proof of Guatemalan coverage. Supplemental Liability Insurance (SLI) protects against claims for injury/damage you cause to third persons/their property. It does not cover injury to you or damage to the rented vehicle. Property damage/public liability covers up to USD 35,000.00. For Mini – standard size sedans cost USD 9.00/ per day. Full-size sedans, SUV, trucks and vans USD 15.00/ per day.

Driving Restrictions: Additional drivers must meet the same qualifications as the primary driver. This includes age, passport and license requirements, among others. The additional driver fee is USD 4.00 /per day. Please contact office for information regarding one-way rentals.

Geographic restrictions:For an added fee, vehicle may be driven from Guatemala to El Salvador, Belize, Honduras (Copan Ruins). For more information inquire at rental counter upon commencement of rental.

Refueling Requirements on Return:Vehicles rented with a full tank of fuel must be returned full to avoid a locally determined refueling charge.

We're ready with the keys to your NextCar, and Our friendly customer service representatives at NextCar of Guatemala can help you find the rental car and service you need!

Call us at 01150222613627 or make your reservation on-line.