Debit Card Customers welcome! NextCar is proud to be located in the heart of downtown Bozeman, MT. We are locally owned and operated, a family business that is proud to serve our neighbors and visitors alike. We have a fleet of high quality rental cars: compact and family sized sedans, sport utility and crossovers, SUVs and passenger van's. In response to the Covid-19 pandemic, we have aligned our process to clean clean and sanitize to be in compliance with the CDC guidelines, and we are committed to providing you and your passengers with a clean and safe rental vehicle.

NextCar is an authorized off airport car rental operator for Bozeman Yellowstone Aiport (BZN). For those arriving at the airport, please visit our page that is devoted entirely to our BZN Airport service for more information and to reserve your vehicle

Want to pay for your rental with a debit? The Debit Card must be in renter's name and it must have a have chip, not justa magnetic stripe. Prepaid debit cards are not currently accepted.
All debit card renters MUST: Have a MT Driver's license with address showing residency of Gallatin, Park, Madison, or Jefferson county, MT.
IF Debit Card renter has full coverage insuirance, the address on the auto policy must match driver's license.
IF Debit Card RENTER DOES NOT HAVE OWN INSURANCE POLICY, they must be able to provide two proofs of residency dated within 30 days, a Pay stub dated within 30 days, and all documents must match driver's license. Residency documents can be: Utility bill / Phone Bill / Bank Statement (Account must be current and in good standing).
Available Vehicle Classes for debiot card renters:
Cars

Economy, Compact, Mid Size, Standard, Full Size

SUVs

Compact, Mid Size, Standard

Have you been in involved in an accident and are in need of a replacement rental? If you have been involved in an accident and are working with an insurance company, let us know and we will set up a direct bill and communicate directly with the adjustor or body shop.

Car in the shop for body or mechanical work? Whether your car is in the shop for a recall, dealer warranty service, body repair or any other type of service, NextCar is ready to assist you with replacement transportation. We offer pick up and drop off service in the local area, please call us for details and to make arrangements.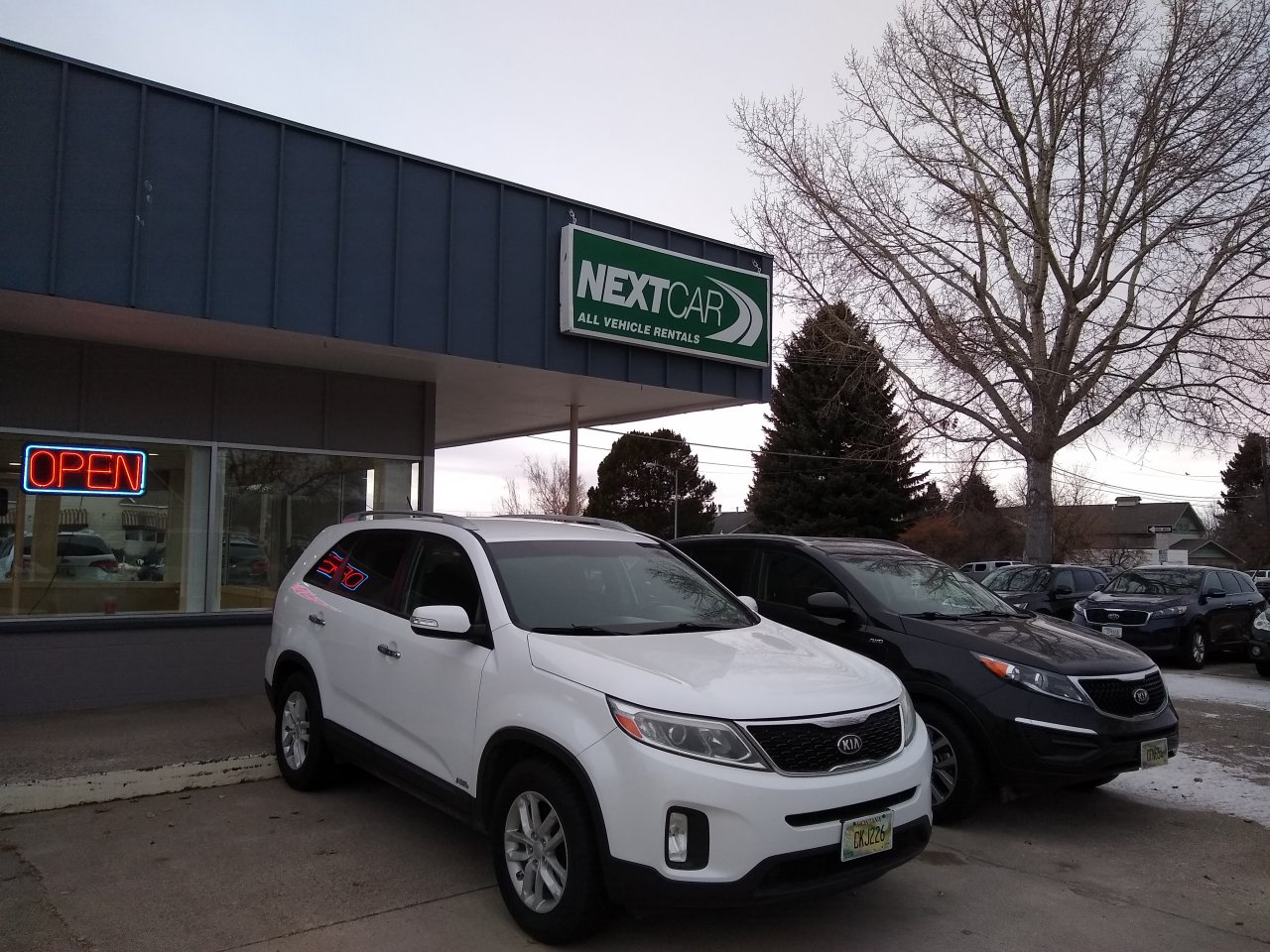 This location is conveniently located right oh US HWY 191, close to Bozeman's Brewery & Historic District and the many cafes, restaurants and shops surrounding it. Surrounded by the majestic mountains and the winding trails of the
Yellowstone National Park
this place is also ideal for nature lovers of all types and our location is stocked full of fleet ready to serve your transportation needs!
We are also located close to the Bozeman Yellowstone Airport and offer pick up and drop off service to our arriving customers. We have a
separate web page
for customers arriving at BZN,
located here
.
Stop in or give us a call, it would be our pleasure to serve you.